Update: June 2014 – Sold!
With my move from Houston to Denver I decided to keep my motorcycle for a while longer. However, I find that I still need to part with it. This was originally posted in September 2010, but I didn't try very hard (only listed it on my website
So I wasn't too serious).
This time I am…
Original:
I find that after many years I need to part with my motorcycle. I'd like to find an owner that will enjoy it as much as I did. Asking $13,000 (obo) for the whole kit and am located in Denver, CO, 720 two two three 8100.
The above photo was taken as my son and I rode down Deal's Gap.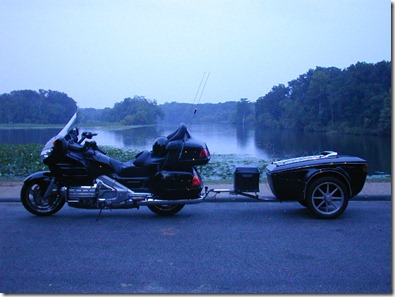 I've really enjoyed it, but here are the specifics:
2001 Honda Gold Wing GL1800 "Kit"
2100 Black 1800
Of course there's the motorcycle itself. Here are the specifics for that:
Black with silver fairing (still have the original black one too)
34,000 miles
Extra PIAA lights (makes night riding fun and safe)
Fog lights
CB/AM/FM Radio
New windscreen with vent
Mounts for Garmin GPS System
Heated grips
Backrest
Taillight modulator
1999 Bushtec Turbo Trailer
I drove up to Bushtec to pick this up when I had my 1994 Honda GL1500 Gold Wing. I came back over Deal's Gap (my first time to ride it) and someone I stopped with couldn't believe I was going over that with a trailer. He watched me part of the way (in his rearview mirror) and was completely blown away. He said the bike and the trailer seemed as one moving gracefully through the corners. I've never taken a long trip (more than 100 miles away) without taking the trailer along.
Ice chest mount with chest
Locking hitch
Locking cable
Extras
Garmin StreetPilot III GPS ColorMap that mounts and can play through the intercom
An older helmet that has the intercom headset in it (to move to a new helmet… you don't want to wear this helmet…)
A newer helmet that is full face, but can lift to be 3/4 face for warmer weather riding
A perforated leather jacket (again, great for warm weather riding)